Tribune article:
English, Spanish light-rail rules don't match
Source
English, Spanish light-rail rules don't match
Sonu Munshi, Tribune
December 8, 2009 - 5:37PM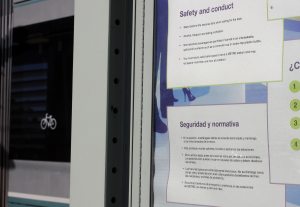 Signs in English on the Metro light rail have added words when translated to Spanish as seen here at the Sycamore Station in Mesa. Dec. 8, 2009.
Tim Hacker, Tribune
Mike Ross is a self-proclaimed light-rail protester and rider. But beyond the Tempe resident's usual objection to government being in the business of mass transit, it's a giant signboard at light-rail stations that's been irking him.
The number and content of the safety and conduct rules for light-rail riders are different in English and Spanish, a difference that Ross isn't sure is a matter of a careless mistake or something deliberate.
"I don't know if there's any racism," he said. "I think someone screwed up, but that first instruction in Spanish, that kind of sounds a little bit racist."
The first sign, he explained, says in English to stand behind the textured strip, while in Spanish it says to stay behind the line and hold the hands of your children.
Ross said, "Why not tell English-speaking people to hold their kids' hands, too?"
The second rule of conduct in English is: "Alcohol, tobacco and eating prohibited."
But, noted Ross, the Spanish version of the rules does not include that rule, nor does it mention another rule that's highlighted in the English signage regarding a valid transit pass or spending more than an hour at a station.
Ross pointed out he's a white guy who just happened to notice the difference in signs and couldn't help but question the change.
"My Spanish is cruddy, but even I could tell the rules were different," Ross said.
His objection appears to have made a difference.
Light-rail spokeswoman Hillary Foose told the Tribune that generally for all its signage Metro used a professional translator.
"We have a professional translator that we used to make sure the Spanish one is as accurate or professionally done as can be," she said.
Later, after looking into this particular signage, Foose followed up with a written statement that noted the signs will be changed.
"The content difference was not intentional but was an inadvertent mistake made during the busy months leading up to and following the opening of the system," the statement said. "We will immediately replace these posters and update them with content that is clear and consistent."
That sounds akin to what Ross thought may have happened.
"I suspect they just screwed up," he said.
Lost in translation
Signs at Metro's light-rail stations give Spanish readers a different set of safety instructions from those that are printed in English.
For English readers: "Stand behind the textured strip when waiting for the train."
Spanish version: "En la estación, manténgase detrde la banda texturizada y mantenga a los niños tomados de la mano."
English translation of the Spanish version: "At the station, stand behind the textured line and hold your children's hands."